8 Unique Handcrafted Gifts for Teacher Appreciation Day
Hey guys! Jessi here! It's National Teacher Appreciation Day! Are you doing anything to appreciate those who shape the kiddos in your life? While we don't have kiddos in the Crazy house, we DO have a lot of teacher's in our family so I have a unique, outsider-outside view of what teachers get each year and let me tell you, there is some serious doubles out there! So, I scoured our Flourish Market and tapped some of our awesome handcrafted artisans to show off some of their favorite Teacher Appreciation Gifts! Who's excited?!
Let your teacher give LOTS of thumbs up and encouragement! This cute hand stamp has so many uses in the classroom teachers will never get tired of stampin' away! Created by AgRootsMarket
Loaded with verses and a teacher's prayer, this would be a great gift for a teacher of a Christian ciriculum. Created by ManySparrowsBoutique
This colorful beaded lanyard is perfect for the teacher in your life! Desigend to carry ID cards, door passes, or keys grab it now! Created by MiksJewelryShop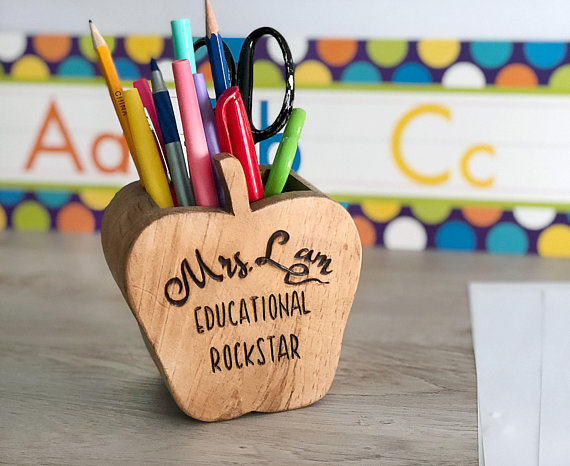 Personalized Pencil Holder
How cute is this awesome Pencil Holder? Personalize it for the education rockstar in your little human's life! Created by FIREArtbyKatrin
Everyone deserves pampering after a long day, especially teachers. These shower steamers are the perfect thank you gift to relax after a long day. Created by BlackSoulBathory
Give your little human's favorite teacher a start for next year with a customized name banner just for their classroom! Created by SugarOwlDesign
Take all the things that teachers do and write them out. Created to celebrate teachers and all they care about. Created by ShesSewVain
Teacher's Pets
Apple Cutie
We hope you enjoyed our awesome mini collection of Teacher Appreciation Gifts! Even though the holiday is technically May 8th, it's NEVER too late to appreciate and thank the teachers who touch your kiddos lives! Many schools don't get out until the end of the month or even early next month! So there is still time! Missed out completely this year? Order earlier next year or even grab some for Christmas! Teachers tend to get plenty of mugs, cups, tshirts, and signs. Think outside of the box and give them something unique!